Do not like browsing for lyrics ... like me ? Thanks to a plugin you can speed up that process
Get lyrics for any song you play in
Windows
Media Player using lyrics plugin .. a simple clean and small plugin that does the job beautifully also . it is available for iTunes , Winamp also ...
Lyrics Plugin is a piece of software tailored for music fans. To put it simply - it is an add-on to view lyrics in Windows Media Player, Winamp or iTunes. No more searching for lyrics. Just start listening to your favourite songs and lyrics will be displayed automatically. Oh, and if lyrics is not found, you can add it yourself :)


The official explanation sums it up on how good it is ...
I will be focusing on installing it on my favourite media player , Windows Media Player ..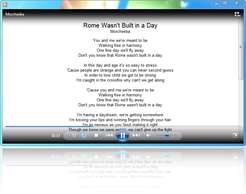 Download the windows lyrics plugin at
http://www.lyricsplugin.com/
After installing it restart Windows Media Player if it was running before .
Now right click anywhere in the Media Player bar and select Lyrics Plugin from the Tools >> Plugins
And viola there are the lyrics :)